A Newbie's Thoughts on the 24th Annual "Last" Chicago CocoFest 2015
Brief Personal Introduction (Skip if you want to go to a summary of the event)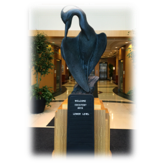 To clarify, I am a newbie to the CocoFest but not a newbie to the Tandy/Radio Shack TRS-80
Color Computer platform
. I purchased my first TRS-80 Color Computer 1 in 1982 at the age of 11. $600 was a lot for a rural Utah kid who spent all his money from selling a cow in the 4-H stockshow on this venerable machine. It had 16k of memory and a less than usable chiclet style keyboard. However, despite its shortcomings, I fell in love with this little computer! A few years later I upgraded to the Color Computer 2. I spent hours programming in BASIC on these great machines and did enjoy playing games as well. One of my first useful BASIC programs was a U.S. State Capitals Quiz. However, my interest in the Color Computer line wained when the Tandy 1000 PC came out and I never owned a Color Computer 3 in its retail lifecycle.
At the time, I didn't have the foresight to keep these old machines and have a mother that liked to throw away anything in storage that hadn't been used in a while. About a decade ago, I reacquired a mint condition Coco1 and two lightly used Coco2s, a floppy drive system, and enough cartridges, floppies, and manuals to relive the platform's glory days including my early favorite games MegaBug and Poltergeist. I kept it out for a few years and then it got relegated to storage when life commitments with a young family came along. More recently, I acquired two Coco3 systems with a renewed interest in the platform so I could experience improvements made on this last of the beloved line of home computers. In the decade away, I discovered that there was still a vibrant Color Computer community with some of the best hardware and software development in 35 years of history! I went to CocoFest to connect and learn from some of the new vanguard and long-time supporters that have been carrying the torch and filling the gap since Tandy/Radio Shack abandoned the platform in their slow march to corporate oblivion.
Mission #1: Coco3 Brain Transplant by the Master Surgeon Mark Marlette of
Cloud-9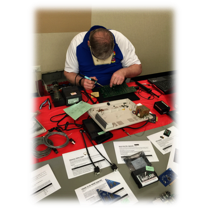 My recently acquired Mint-condition Coco3 128k was itching for all of the latest hardware innovations made possible by the affable hardware genius Mark Marlette. Mark's booth at the show was always a hive of activity. Mark's day job at a defense contractor charged with development and repair of all things electronic has helped him develop his considerable prowess.
Mark has recently updated his PS/2 keyboard adapter and has a
new miniFlash Flash-based 4-bank programmable ROM cartridge
that comes installed with a DriveWire-compatible ROM in the first slot. He also still has his power sipper
Triad 512k RAM upgrade
, his
Multi-Pak Coco3 upgrade PAL
, and his
ProTector+ kit
to keep your CPU from getting jolted or jilted. I took it all along with the pinnacle of the transplant, the Motorola 6809's Japanese Cousin—the upgraded Hitachi 6309 CPU.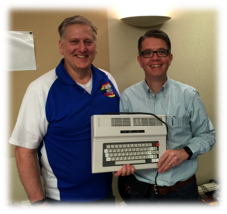 I walked away with a tricked out Coco3 and felt like a kid on Christmas morning! Mark's work at Cloud-9 is a labor of love for the community. There is nothing wrong with homebrew experimental hardware but Mark's products are as professional and polished as it gets. His patient and supportive significant other was there to help him work his booth. The amount of time and talent that he devotes to engineering these technically complex solutions offered to the community is immense. He gave my 30-year-old computer a new lease on life ready to be pushed to new limits.
John Linville – What was Old is New Again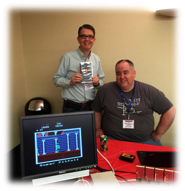 John Linville, whose day job as a kernel software engineer for leading Linux provider RedHat, brings an artisan's level of professionalism to his work in the community. John gave an outstanding presentation reviewing a blistering array of projects that he has been involved with in the past year to support the Coco and Retrocomputing in general. John also encouraged the rest of the attendees to follow his example in taking a more active role in moving the platform forward through broader participation and outreach.
One of the highlight's of the show was waiting to see how much the one copy of John's handcrafted
Fahrfall
game cartridge would fetch on eBay with the auction closing at mid-day on Saturday at the show. Those in the community who couldn't attend turned out in force on eBay with the cartridge fetching $113.50. I am also the lucky owner of one of the best games for the Coco platform and the first new Coco game cartridge produced in decades. What was old is definitely new again! I'm looking forward to firing up my Coco2 and have a Fahrfall competition with my daughters!
The Dynamic Duo-Mark Marlette and Boisy Pitre: Cloud-9 Presentation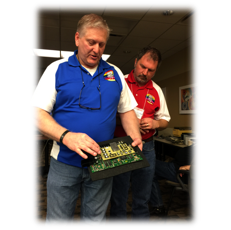 Mark and his software simpatico Boisy Pitre gave an outstanding presentation together on the Cloud-9 hardware products I already elucidated in describing my Coco3's brain surgery. But the highlight of their presentation was a review of the high-level design and features of the long planned and hoped for SuperBoard. The SuperBoard will be a custom shaped board that plugs into the memory pins and cpu socket of the Coco3 and not require any case modifications. Potential enhanced functionality includes 2MB of RAM, networking, SD card, and USB support. They expect to make significant progress on the project this year but have not committed to any specific target date. I'm sure we will all be watching this project with great interest.
Modern Video Output Support for the Coco 3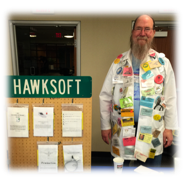 Right now the options are very limited for those of us who don't own an old CM-8 monitor and want to be able support high-resolution output from the RGB port of a Coco 3 to a modern flat panel VGA or HDMI display. Long-time CoCoFest supporter and Coco3 RGB-to-VGA adapter box extraordinaire Roy Justus has been ill and is current convalescing and unable to attend the show this year. Roy is not actively making any new RGB-to-VGA adapter boxes.
Another long-time show participant and vendor Chris Hawks of Hawksoft offers an RGB cable that can be used with a third-party generic RGB-to-S-Video adapter available at
Jamma Boards
. There are also S-Video to HDMI adapters generally available at Amazon and elsewhere. Not an ideal train of adapters but I will most likely try this out in the interim to see if I can get a readable 80 column display on my LCD monitor.
Hope (for using a modern display) Springs Eternal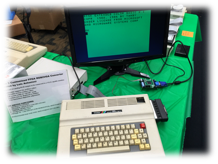 Mike Rowen was demonstrating a FPGA-based RGB to VGA adapter prototype board developed by Canadian
Luis Antoniosi
. This solution has the hope of being the crème-de-la-crème solution with selectable support for artifact colors and reverse artifact colors, full screen width or "shrink" mode, the choice of hiding or displaying the scanlines, and a 5-bit horizontal alignment adjustment to handle the slight variations in each Coco's display output. More information on this solution including schematics can be found online
here
. I for one am looking forward to watching Luis' progress.
Saturday Night: Private Nerd Fest or Casey's Restaurant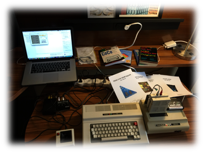 I was torn between going back to my hotel room with my newly tricked out CoCo3 and spending the night putting it through its paces or joining the majority of the group at Casey's Restaurant just down the road from the Heron Point Convention Center. I made the right choice and joined the group at Casey's. The atmosphere was great and the food and service matched. With flaming cheese appetizers and plethora of other comfort food, nobody left hungry.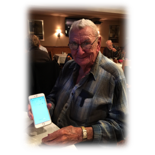 I got the distinct pleasure of sitting at the table with the distinguished Glenside Club Treasurer 94-year old George Schneeweiss. George is a fascinating man with interesting life experiences with a feign curmudgeon's exterior to mask his warmth and welcoming personality. George is a man who keeps up with the times as best he can and keeps busy with varied interests and hobbies. I took a picture of him with his iPhone 6 Plus to show you are never too old to teach an old dog new tricks. Now if only my 75-year-old mother could figure out how to use her iPhone…

John Strong, StrongWare, and giving fit and finish to the awesome CocoSDC

John has been a leading game developer for the Coco platform and has developed a number of signature games over the years including one of the best Tetris-clones and the only game that leverages the stereo sound of the Orchestra-90 for game play. He offered them for sale at the show.
One of the innovative contributions John has made recently unrelated to his software expertise is a 3-D printed case designed for the
CocoSDC
. I personally purchased one of his excellent cases just a few weeks before CocoFest to match my
Zippster-produced
CocoSDC originally designed by Darren Atkinson. The CocoSDC with its FAT32 SD card support along with the expansive library of software on the
Color Computer Archive
and the programming and tool tips on
CocoCoding
have personally made the Coco exciting and relevant again for me without the tedious job of writing new 5 1/4" floppies on an old Windows with
VCC
, the
raw floppy driver
and my remaining limited stock of floppies.
Historian Extraordinaire and Next Generation DriveWire on the Mac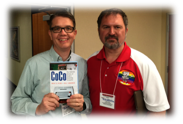 Boisy Pitre is the co-author of
CoCo: The Colorful History of Tandy's Underdog Computer
. He graciously signed my copy of the book. He and Bill Loguidice did an excellent job of telling the rest of the story on the Color Computer with the corporate intrigue at Tandy and Radio Shack. Boisy is also working on developing a
native Mac OS X version of DriveWire
as an alternative to the
existing Java-based version
. Boisy is one of the key technical leads in the CoCo community and is a contributor to the amazing
NitrOS-9
operating system.
Glenside Club Regulars and CoCo Fest Traditions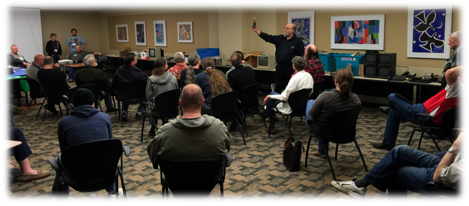 Glenside Color Computer Club President Tony Podraza kept the energy level up with both give-aways and two auctions to raise funds for the club. He also read a touching message and prayer from long-time participant Brother Jeremy who is away serving his church in England. There were also a number of local participants who I didn't get a chance to get to know as well.
Dartmouth Time Sharing System Simulator BASIC Programming Contest Contest with Kip Koon

Kip Koon led the charge in a Basic Competition.
I'm sorry I didn't get the names of the participants. As I recall, there were three entries: showing a sine wave, calculating a story problem where a man's age was a certain multiple of his grandchild, and a game. The game won the majority vote of the attendees.
There were three participants: John Mark Mobley, Kip Koon and Salvador Garcia. John Mark's program solved a puzzle which consisted of calculating the child's and father's ages given that the grandfather's ages was evenly divisible by the child's age for 6 consecutive years. Kip Koon's program graphically presented a sine wave onscreen. Salvador's program implemented a simple text adventure game called Maze which basically consisted of finding your way out of a maze. Salvador's game won the majority vote of the attendees. (Thanks to Salvador for filling in the gaps in my memory!)

Recreating my first significant Coco program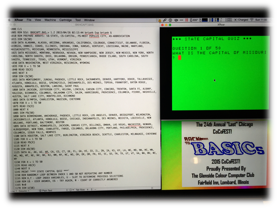 Although I didn't have an entry in the competition, I was inspired by them and used some of the downtime at the event to recreate my first significant Coco BASIC program from 1982. Since my Coco 3 was back in the hotel room, I used
Xroar
for the Mac with the
ROMs
on the Color Computer Archive to emulate a real machine from my MacBook Pro laptop.
My program
is a quiz to test the user on the capital of each of the U.S. 50 states. It presents the states in random order and keeps track of the correct answers.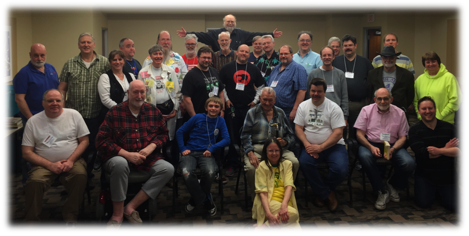 The "Family Photo" at the End of the Second Day
There were a significant number of attendees at the event that came and went and didn't stay until the end of the show on Sunday afternoon. This picture captures the die-hards at the end of the event with club president Tony at the back with open arms.
The End
I had a great time at my first CocoFest. I can really get a sense for the camaraderie and friendship that has been built over the years with many in the group through their common bond of the small little computer from the 1980's that hooks to your TV. Thanks to my wife and three daughters at home for letting me go away another weekend after an already busy three months with extensive worldwide business travel.